Le Petit Depart
I don't know what possessed me to say yes! When Chris Creber rang up and said 'Stevo what about doing the Le Petit Depart 120 km in the Dales for the Rob Stephenson Trust?  Beautiful mate!' At that moment I must have blacked out as a strange voice replied yes.
So, the dice was cast and roll on 8 weeks I am in a car park with hundreds of other lycra clad cyclists. At that point all similarities changed. I had on the Sports Direct best, where as everyone else seem to represent France, Spain, Italy or their local cycling club. My bike certainly not built for speed was more sit up and beg the rest had 10gram fibre coated, titanium prop shafts etc. My trusty training shoes not quite the match for the cleats on display. To say I was out of my comfort zone was an understatement.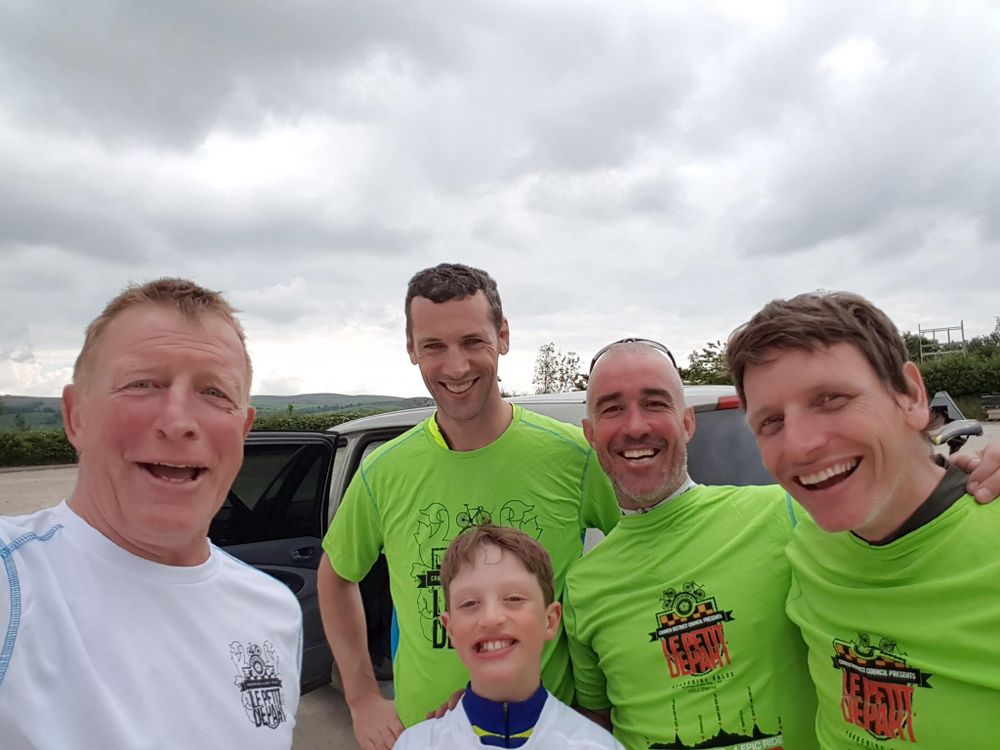 Our team (this was a team effort) Chris Creber, Richard Webster, Al Christie and his son 11 year old George Christie the youngest competitor to take on this challenge. As we waited at the start the banter was pleasant 'Have you done this before?' Answer no 'Have you ridden this far before?' Answer no.  These two questions usually led to the polite rider changing places and moving away.
The starter explained that this was not a race and there was much nodding in agreement and then, as the klaxon sounded there was a blur of colour and wheels as the non-race got underway.
Having no watch or Strava or Fitbit I would be guided only by seeing the peloton disappear. My only consolation was that if I failed to keep above 15 km an hour by the feed stop at 42 km or 80 km I would be eliminated. My team mates had the patience of Saints because even the slightest incline saw my trusty steed drop to a snail's pace and everyone in the event progressively passed us. The good part about this was that I got on first name terms with the marshal's as it became quickly apparent that rider 265 was last. George our 11 year old dynamo flew up the hills and was a real hero on the other hand I am of the school that suffering is a personal thing and best done in a corner where you can quietly sob away. Unfortunately, our team leader Chris believed that following you and encouraging you to go up vertical cliff faces because 'this is why we cycle Stevo the challenge!' Only makes you want to stick your bike pump right up his hooter!  Slow and steady would be the best description for my forward motion and shock of shocks I managed to make both feed stops without being eliminated!  The unfortunate part of this was that I had to finish the ride with the dreaded High Back Lane climb to come.  At this point I had inherited the Sweeper party the Skipton cycling club officials who biked at the back making sure everyone finished or stopped and was OK. This had the feeling of the vultures hovering but their company was appreciated.
We were now on the final leg and High Back Lane was a huge understatement insert an Anglo-Saxon phrase in front and that aptly described it. I would love to tell you that I cycled up this cliff face but no I resorted to a Sunday stroll blessing the fact I had not got any cleats on! After this I was promised and repeatedly told that was the last climb and then it was downhill all the way including the 'best downhill in the Dales'.  I had mastered downhill and to be fair it was a lovely decent. As for the last climb I will beg to differ as my broken body now found even a slight rise more like Everest. If we add to this that I was stopping all the officials clearing off for a Sunday tea, the arrival at each marshaled section was greeted with '265 is still going'.  Finally we returned to a standing ovation and the only car left in the car park!
A Huge thank you to Skipton Cycling Club for a brilliant event, superb hospitality and putting up with me.  To Chris Creber and the team for nursing me round.  Although not a race we did have two winners George 'the dynamo' Christie the youngest person to complete the course and the fastest 59 year old with a false hip on a sit up and beg bike with trainers on!