When:
2018-05-27T00:00:00+01:00
2018-05-28T00:00:00+01:00
Where:
Malton & Norton RUFC
Old Malton Rd
Malton YO17 7EY
UK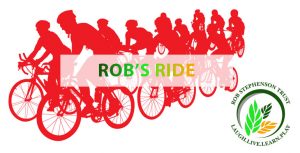 Rob's Ride for the Rob Stephenson Trust
The aim of the ride is to have fun and hopefully raise some money for the Robert Stephenson Trust. Rob's charity is to help young people in the UK and all over the world participate in sport and change their lives for the better.
The ride starts 9am prompt Sunday 28th May 2018 at Malton & Norton Rugby Club. All good looking people with the correct kit will start at the front. There will be a warm up session at 8.45am and we recommend that you take part. A cycle helmet is essential – no helmet, no ride.
Registration will take place from 8.00am at the rugby club.
What you will need?
a fully functioning bike in working order (the lighter the better) Mountain bikes and tandems are not good.
1or 2 spare inner tubes.
a couple of tyre levers
a pump
1or 2 water bottles on the bike
a cycle helmet- no helmet, no ride.
a mobile phone
The ride will cover some of the Wolds villages, decide which route you want to ride and then just pay on the day. 60km £25, 50km £20 and the shorter 25km – £15. Children free with an adult. There will be drinks and snacks available en-route and supporting vehicles.
Road safety Instructions
Riders under 18 must be accompanied by an adult throughout the event
It is NOT a race, there will be a safety briefing before the start.
Helmets are mandatory. No helmets, no ride.
Obey the Highway Code at all times.
STOP at junctions
Never ride more than 2 abreast
Ride single file on single track roads
Do not use headphones while cycling
Use hand signals when turning
Do not overtake on a fast downhill
do not break hard on a slippery road
look behind before you overtake
Please read the risk assessment before you ride and sign the disclaimer
Have your bike fully serviced before you take part in the ride."
Remember to….
LAUGH. LIVE. LEARN. PLAY